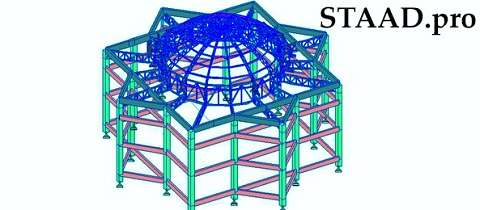 Courses Overview
STAAD.Pro v8i instructional class is intended for common and auxiliary architects to have hands-on understanding on generally utilized programming for basic investigation and outline. This preparation creates aptitudes and strategies to create, keep up and bolster elevated expectation outline necessities. The student develops great examination and planning capacities that can be actualized by specialty ventures and driving building consultancies.
Following aptitudes will be taught in you toward the finishing of this preparation:
• Describe the essentialness of the product
• Proficient in 2D/3D geometry creation techniques
• Implement valuable capacities, properties, constants, backings, and details to finish the geometry
• Ways of making load with manual and programmed mixes for floor, zone, plate, wind, and moving burdens.
• Isometric and point of view sees with 3D shapes.
• Customize basic layouts for making a model.
• Elaborate techniques for examination
• Supports cement and steel outlines covering curvilinear bars, straight and non-direct links.
• Rectangular and round and hollow organize frameworks with blend and match abilities
Introduction to STAAD Pro
History of STAAD Software
Method of Analysis
Three steps to reach your goal
Starting STAAD Pro
Creating New File
STAAD Pro Screen
Opening an Existing File
Closing a file
Existing STAAD Pro
Saving & Saving As
Workshop
Module Review
Geometry
Understanding STAAD Pro Way
What are Nodes, Beams and Plates?
How things are done in the Input file?
Geometry Creation Methods
Method 1: Using Structure Wizard
Things you can do in Structure Wizard
Method 2: Drafting the Geometry using Snap/Grid
Viewing
Selecting
Using Selecting While Viewing 3D Geometry
Method 3: Using Copy/Cut with Paste
Method 4: Using Spreadsheet (Excel) Copy and Paste
Method 5: Using DXF importing file function
Workshop
Module Review
Useful Function to Complete the Geometry
Introduction
Translational Repeat
Circular Repeat
Mirror
Rotate
Move
Insert Node
Add Beam Between Mid-Points
Add Beam by Perpendicular Intersection
Connect Beams along an Axis
Intersect Selected Members
Cut Section
Renumber
Delete
Undo/Redo
Zooming/Panning
Dimensioning
Pointing to Nodes, Beams, and Plates
Global and Local Coordinate System
Workshop
Module Review
Properties
Introduction
Property Types
Type 1: Prismatic
Viewing Cross-Section
Type 2: Built-In Steel Table
Type 3: Thickness
General Notes about Property Assigning
Workshop
Module Review
Constants, Supports, and Specifications
Introduction
Material Constants
Geometry Constant
Supports
How to Assign Supports
Editing Supports
Specifications
Workshop
Module Review
Loading
Introduction
How to Create Primary Load
Individual Loads: Introduction
Individual Loads: Selfweight
Individual Loads: Members Loads
Individual Loads: Area Load
Individual Loads: Floor Load
Individual Loads: Plate Loads
Individual Loads: Node Load
Individual Loads: Viewing & Editing
How to Create Manual Combinations
How to Create Automatic Combinations
Workshop
Module Review
Analysis
Introduction
Perform Analysis Command
P-Delta Analysis Command
Non-Linear Analysis Command
The Execution Command
Workshop
Module Review
Post Processing
Introduction
First Step
Node Displacement
Node Reactions
Beam Forces
Beam Stresses
Beam Graphs
Plate Contour
Plate Results Along Line
Animation
Reports
Other Ways: Double-Clicking a Beam
Other Ways: Double-Clicking a Plate
Workshop
Module Review
Concrete Design
Introduction
Modes of Concrete Design
Step 1: Job Info
Step 2: Creating Envelopes
Step 3: Creating Members
Step 4: Creating Briefs
Step 5: Creating Groups
Step 6: Design Modes
Step 7: Reading Results: Beam Main Layout
Step 8: Reading Results: Beam Main Rft
Step 9: Reading Results: Beam Shear Layout
Step 10: Reading Results: Beam Shear Rft
Step 11: Reading Results: Beam Drawing
Step 12: Reading Results: Column Main Layout
Step 13: Reading Results: Column Shear Layout
Step 14: Reading Results: Column Results
Step 15: Reading Results: Column Drawing
Step 16: Reading Results: Generating Design Reports
Steel Design
Introduction
Step 1: Load Envelope Setup
Step 2: Member Setup
Step 3: Change the Restraints
Step 4: Creating Briefs
Step 5: Creating Design Groups
Steel Design Commands in STAAD Pro
Workshop & Module Review
Duration: ---